Zum Warenkorb hinzugefügt
Entschuldigung, ein Fehler ist aufgetreten. Bitte versuchen Sie es erneut.
Zwischensumme: ( Produkte in Ihren Warenkorb)
Sorry, dieses Produkt ist momentan leider nicht auf Lager.
Andere Kunden, die diesen Artikel gekauft haben, kauften auch…
Vittoria Rubino Pro Control G+ Isotech Clincher Road Tyre
This new addition to the Rubino Series addresses the need for a very strong tire that is capable of handling the worst of road conditions, without sacrificing the performance the all-round range is known for.
Strongest tire for all road conditions
3 compounds for puncture/cut protection, grip, suppleness
Extra casing layer for flexible protection
The Vittoria Rubino Pro Control with the new G+ graphene triple compound is a new addition to the Vittoria Rubino series. The Pro Control is a stronger version of the regular Rubino Pro and is made to handle the worst road conditions. To make this tire stronger, the sidewalls are made stronger with an extra layer of casing material and a thicker layer of rubber to protect the casing against cuts.
Graphene is a revolutionary material in the form of a very thin, nearly transparent sheet of pure carbon. In its extreme form it is as thin as a single atom (1/100,000,000th of a metre). Vittoria used Directa Plus Graphene called G+, which is 2 to 8 atoms thin.
The Benefits of Graphene
Enormous surface area: 1 gram – around 2630m² that can facilitate any chemical process
High mechanical resistance: approximately 200 times stronger than steel
High thermal conductibility: more than 2 times that of a diamond
Less density: is equal to half that of aluminium
High elasticity: equal to 6 times that of steel
High electrical conductibility, transparency, lightness, flexibility and mechanical resistance
Vittoria and Graphene ITS and No Compromise
With the application of Graphene in Vittoria wheels & tyres, we have truly developed revolutionary products. Therefore, we have created a new product range called the "Intelligent Tyre System" (ITS)
Vittoria tyres are now intelligent. ITS compounds become harder and softer, depending on the needs of the rider. If the tyre is rolling straight, the rubber is at its hardest and offers low rolling resistance. If the rider breaks, accelerates or corners, the compounds soften and offer significantly more grip. Prior to the advanced development of Graphene, there was always the requirement of choosing between optimising, or aiming at, speed, grip, durability and puncture protection. Effectively, the introduction of Graphene allows for natural material barriers of rubber to be removed, which means that there is no longer the need for such compromises between speed, grip, durability and puncture resistance. All these features are now reaching their maximum possibilities.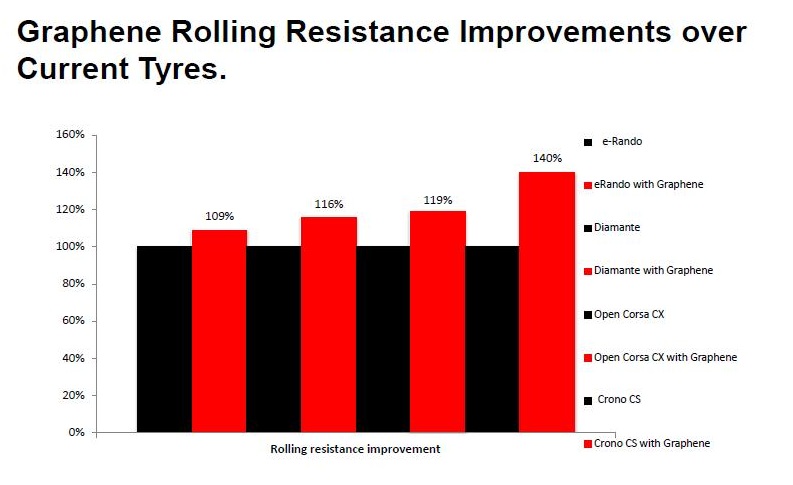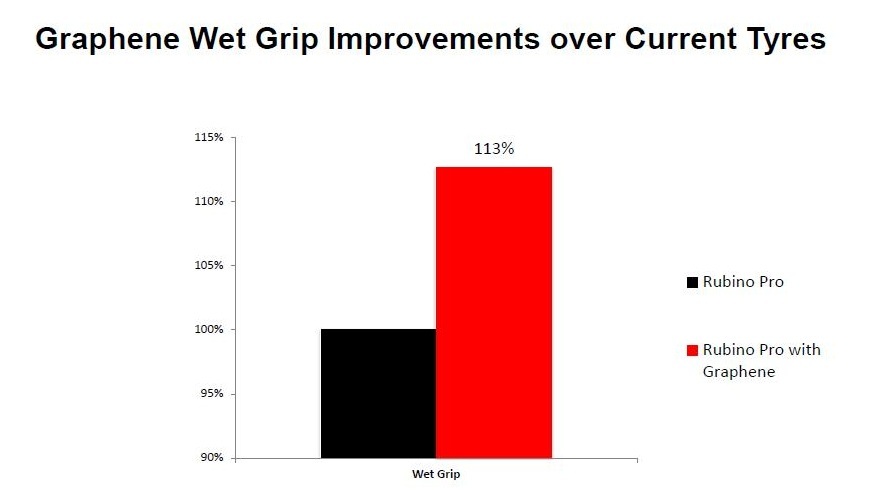 Casing Technology
Cotton Casing
Vittoria is the world's leading manufacturer of tyres with cotton Corespun casing. The sublime performance of Vittoria tyres and tubulars is the product of years of experience. R&D, and advance production technology. At its heart is our mastery of fine-cotton Corespun production. Simply put, the finer the Corespun fabric, the more supple the tyre casing. The casing conforms closer to the roads surface, providing a smoother ride, easier rolling, and better grip. The grade of fabric used in a tyre's casing is expressed in threads-per-inch (TPI): the higher the TPI number, the finer the threads, the denser the weave, and the suppler the tyre. Uniquely, Vittoria makes casings with 320 TPI Corespun yarn – the finest available.
Vittoria cotton casings differ in thread size and additive content, according to intended use:
Corespun T 320 TPI utilizes the finest thread available, exclusive to Vittoria. This special 320 TPI fabric makes for the lightest, supplest, and fastest casing ever, to sustain the highest pressures used on track.
Corespun K320 TPI has a mixture of Kevlar®** threads for casings, where strength is the essence.
Corespun 320 TPI is our most advanced Corespun casing, made of the finest poly-cotton thread with no added Kevlar®**
Corespun 290 TPI is a high-TPI cotton with polyester yarn, producing a flexible, strong casing sustaining high pressures and offering outstanding performance and comfort.
Cotton 220 TPI Cotton is the traditional material of high-quality racing tubulars. Vittoria uses the finest grade of natural cotton, 220 TPI, in a diverse range of top-class tubulars.
**Trademark of Du Pont de Nemours
Nylon Casing
Nylon is a robust and durable artificial fibre traditionally used for strong tyre casings. The artificial fibre can be very light but is not as supple as Corespun. Our Nylon casings set a new standard in their class. Vittoria offers casings in Nylon 180 TPI, 150 TPI, 120 TPI, Nylon 60 TPI and Nylon 26 TPT, each equipping tyres at its respective point on the price-performance scale, and all conferring the Vittoria characteristics of comfort, speed and good handling.
Compound Technology
G+ Isotech®*
Vittoria's unique Graphene compound with revolutionary G+*, as provided by technology partner Directa Plus. No compromise is necessary with this compound that is superior in speed (rolling resistance), grip, durability and wear resistance.
4 Compounds (4C)
Exclusively developed by Vittoria to achieve performance products without compromise. Vittoria 4C is a layering process, using 4 separate compounds in the same thread. The 4C process offers unmatched versatility, by allowing for separate base and surface compounds, in both the centre and side areas of the tread. Benefiting from the different properties of each compound, including the G+ Isotech, their distribution is extensively tested to deliver the best products imaginable.
3 Compounds (3C)
Applied by Vittoria to deliver all-round products without compromise. Vittoria 3C is a layering process, using 3 separate compounds in the same tread. The different properties of each compound, including the G+ Isotech, allow for the improved experience in all circumstances.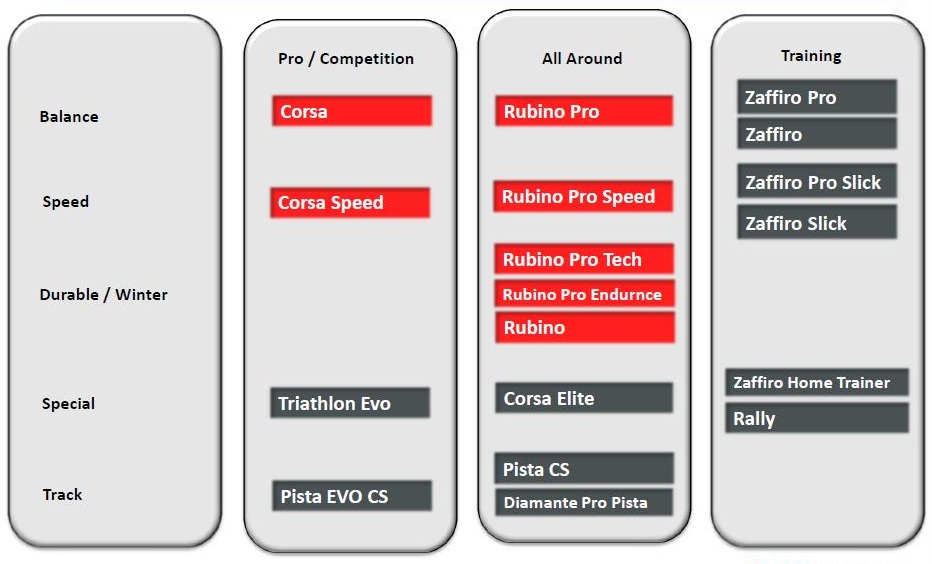 Wie lange dauert es, bis meine Bestellung bei mir eintrifft?
Bitte überprüfen Sie die Verfügbarkeit des Artikels, bevor Sie die Bestellung aufgeben. Dieser Artikel ist: Ausverkauft.
Wie kann ich feststellen, ob meine Bestellung verschickt wurde?
Sie werden per Email benachrichtigt, sobald Ihre Bestellung verschickt wurde.
Sie können den Status Ihrer Bestellung oder einzelner Artikel überprüfen, indem Sie auf Mein Konto gehen und den Anweisungen folgen.
Bitte erlauben sie eine Wartezeit von 10 Werktagen nach Versand Ihrer Bestellung, bis Sie uns über eine verspätete Lieferung informieren.
Fragen Sie im Zweifelsfall Ihre Nachbarn, da das Paket möglicherweise dort abgegeben wurde. Überprüfen Sie alle Nebengebäude, die eventuell vorhanden sind. Möglicherweise wurde das Paket dort hinterlegt, falls es nicht in Ihren Briefkasten gepasst hat. Kontaktieren Sie Ihr zuständiges Briefzentrum, um zu überprüfen, ob das Paket nicht zugestellt werden konnte und nun dort auf die Abholung wartet.
Sind Sie mit Ihrem Artikel nicht zufrieden?
Bitte beachten Sie unser Rückgaberecht.
Erfahrungen und Kundenbewertungen
Zurzeit gibt es noch keine Bewertungen.
, schreiben Sie eine Bewertung, und wenn sie veröffentlich wird, bekommen Sie einen 5 EUR Gutschein für ProBikeKit.
Zoom